Exhibition ▶ IBC 2015
IBC 2015
Exhibition :

2015 International Broadcasting Convention (IBC2015)

Host :

IBC

When :

October 11th to 15th , 2015

Where :

RAI Amsterdam
Hyundai Fomex Co., Ltd presented the megatrend with 'flexible LED FL600' at IBC 2015 Hyundai Fomex Co., Ltd(CEO Jayson K Yoo, www.fomex.com), a video equipment export company, presented a global megatrend by introducing a new product 'flexible LED FL600' at IBC 2015 held in Amsterdam, Netherlands from September 11th to 15th for 5days.
IBC, the largest broadcasting equipment exhibition in Europe and considered an international big 3 shows, is a trend leader of broadcasting area that more than 55 thousand specialists from 170 countries participate in every year. During the IBC 2015 which is the biggest scale ever, more than 1700 companies introduced a variety of business model and technology that connects a national and technology, an industry and users. Especially, Hyundai Fomex Co., Ltd raised statue of Korea broadcasting technology by presenting a new products which contains own technic that drew the interest from buyers and visitors.
'Flexible LED FL600' of Fomex provides a versatile LED light with the significant improvement of the limitations of existing lighting and its compact design and portability allows users to carry and store it easily and able to set up at a variety of places regardless of the limited spaces. FL600 gives various color options - Daylight and Tungsten and a lot of differentiated new technology such as a more than 96 Color Rendering Index (CRI) and high color purity which can maximizes the quality of art work are applied. The high quality LED panel gives the powerful output by the maximum 38,000lux per 1m and the digital dimmer enabled the output control from 0 to 100% and it has a good function which is a delicate light diffusion option with 120˚of beam angle. In addition, it is ideal for the high quality filmmaking by IP 64 level and flicker-free and it is multi voltage product and CE certified by Europe.
'Flexible LED FL600' that fulfilled the megatrend -Greening, Smarting and convergence by maximizing the advantage and supplementing the disadvantage of LED light, raised the expectation of the expanding distribution network in Europe as a new technology leading the post media market. Jayson Yoo, CEO of Hyundai Fomex Co., Ltd who led the new product development and exhibition participation announced that the attending IBC2015 is an opportunity of the important responsibilities and the infinite of possibilities that convert the status of Korean market into a leader, not a follower, and Hyundai Fomex which leads the technology development by the foundation of R&D center and is a promising export company as well as the excellent company brand of Seoul that takes the initiative in national prestige will jump up as a global company that can present the megatrend of broadcasting technology.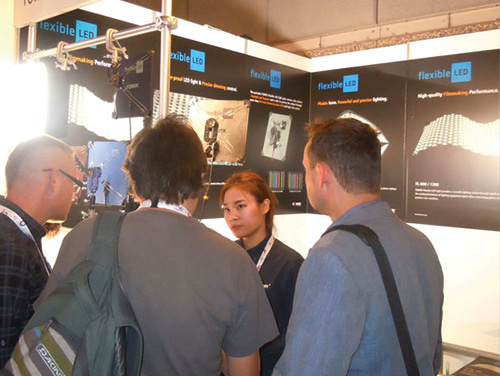 IBC Exhibition and Fomex at IBC