Announces RollLite that will lead era of the Big Blur at BCA 2019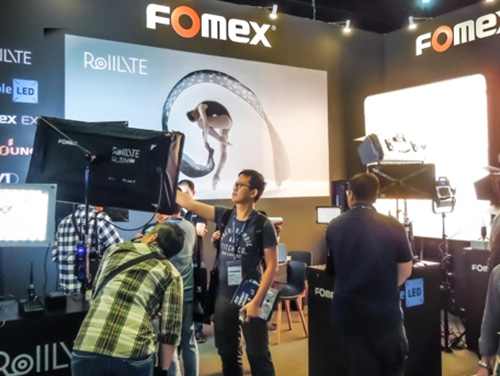 Fomex participated Singapore International Broadcasting Convention(a.k.a Broadcast Asia) from June 18 to 20.
BCA 2019, which has been held since 1992, is Asia's largest exhibition of broadcasting technology that shows trends in the broadcasting and communication market, with more than 700 companies from 50 countries participating each year. In particular, 90 percent of the participated companies are made of leading overseas companies such as the United States, Britain and Germany, making them an important bridgehead for entering not only Asia but also America and Europe. Marking its 24th exhibition, BCA 2019 was comprised of eight sessions of equipment exhibitions and various seminars on different subject, including the subject of broadcasting, telecommunications, network and mobile attracting more than 15,000 visitors.
Fomex's RollLite, which is made from innovative material called conductive fiber, is introduced as LED lights. Since releasing RL31-150, RL33-300, and RL66-1200 for the first time at IBC 2017, RollLite has released three more models, RL21-75, RL31-100, and RL33-200 at NAB 2019, which has gained huge popularity.
Based on its powerful light, the RollLite is designed to be flexible and modified regardless of location and environment. And it is consistently gaining popularity among demanding overseas customers with customers wanting various color options and high color purity. The RollLite has six options in sizes that can be used from small places to large studios and from professionals to the general users. According to the boundary blurring phenomena that appear in ICT and the Internet, as known as the Era of Big Blur, Fomex is appealing for its competitiveness in the global market with RollLite.